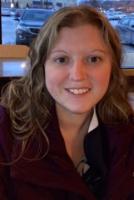 Lynsey Clark – Front Desk Registrar
Q: What is your role at Fowler Dental Clinic, and how long have you served in this role?
A: I am a bilingual front desk registrar at Fowler Dental Clinic, and I also serve as a Spanish interpreter as needed throughout the clinic. I have been in this role for about 2 years.
Q:What do you do when you aren't volunteering at Fowler Dental Clinic?
A: I work with UW Health as a Unity BadgerCare outreach specialist and outreach to BadgerCare members who are in need of resources and services.  I attend many community meetings and events to stay connected with the 6 counties I work with, including Green County. Helping out at Fowler is one way I stay connected and in tune with Green County.
Q: What is your favorite part about what you do at Fowler Dental Clinic?
A: I love working with patients at the front desk and making sure all is in order or the clinic so it runs smoothly. The clinic experience should be a positive one, especially for children, so I like to do my part to make sure it is.
Q: What do you wish other people knew about Fowler Dental Clinic?
A: I wish more people knew how lucky Green County is to have a dental clinic that accepts BadgerCare. Many counties I work with across the state do not have access to a dental provider who accepts BadgerCare, and residents must drive long distances to be seen. Fowler Clinic really makes a difference in the lives of the children in Green County.