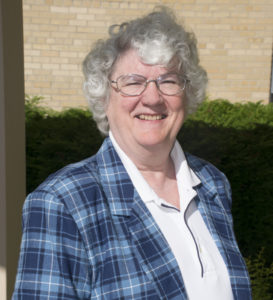 Jan Pandzik – Administrative
Q:  What is your role at FDC, and how long have you served in this role? 
A:  I have been providing administrative support to the FDC just since April of 2017.
Q:  Please tell us a little bit about yourself!
A:  My husband, Jim, and I moved to Brodhead about two years ago from San Antonio, Texas.  Jim retired from teaching computer technology, and I am still adjunct online faculty for Hallmark University, teaching courses in the healthcare management concentration, so it is great for me to get back in a clinical office setting and out of the "ivory tower" of academia.  Hallmark is a wonderful private nonprofit college, and they really stress the importance of service to others.  I also have been a naval officer for eight years, with subspecialty in antisubmarine warfare, then having staff and command tours in training and personnel administration. I taught in the Leadership and Law Department at the Naval Academy, 1985-86, which was quite an experience.
Q:  What is your favorite part about what you do at FDC?
A:  I have been impressed with the dedicated professionals who are working to meet their mission of providing free dental care to children 12 and under, living in Green County, whose parents have no dental insurance or who are on Badger Care Medicaid.  It is great to work with the children and their families to help them get them the dental care they most likely would not be able to access if not for Fowler Dental Clinic. 
Q:  In your own words, how do you feel that the work FDC does impacts our community in a positive way?
A:  The dental specialists, hygienists, and dental assistants all work to meet the needs of children, both to address immediate problems of cavities and painful abscesses or infections, and also to do that prophylactic preventative care that often is missing if families cannot afford such care.   They are working hard to also give understandable education on prophylactic care, and we just need to get the word out to folks that these resources are available!