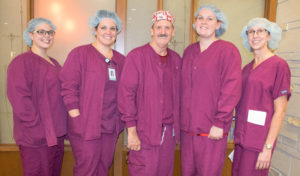 This program will provide access to care for patients with special needs who require general anesthesia in a hospital operating room in order to receive necessary dental treatment.
The program was officially launched on Friday, November 17th, 2017 at the Monroe Clinic. Fowler Dental Clinic was able to treat 5 children under general anesthesia that day. About 50 services were performed, including x-rays, 39 crowns, 4 root canal type procedures, and 4 fillings. The combined donated value of these services amounts to over $12,000!
There are many situations in which an individual may require general anesthesia in order to properly receive dental treatment. Factors such as young age, behavioral problems, developmental disabilities, cognitive and emotional impairments, complex medical issues, or extensive dental treatment can make treatment in a dental office difficult or impossible.
As a free dental clinic, the Fowler Dental Clinic provides care to underserved children in Green County. Over the years, we have found that many of our young patients have not received regular dental care and present with significant untreated dental disease, much of which could have been prevented by proper dental care.
To address these issues, the we have created a hospital-based dental program to treat patients under general anesthesia in the operating room. This program is an incredible asset to our community, and the we are thrilled about the positive impact it will have on the lives of Green County's children. To learn more about how the Fowler Dental Clinic is helping kids, and what you can do to help, please visit
www.fowlerclinic.org.
Fowler Dental Clinic staff pictured from left to right: Rachel Ritschard (Dental Assistant), Jada Krahenbuhl (Dental Hygienist), Dr. Douglas Wilson, Jasmine Neff (Dental Assistant), Deb Douglas (FDC Executive Director and Dental Hygienist).